HISTORY OF SHAW UNIVERSITY
Shaw University, located in Raleigh, North Carolina is the first historically Black institution of higher education in the South and among the oldest in the nation.  The University was founded in 1865 by Henry Martin Tupper, a native of Monson, Massachusetts, a soldier in the Union Army during the Civil War, and a graduate of Amherst College and Newton Theological Seminary.

Shaw was originally founded as Raleigh Institute, a school designed to teach freedman theology and biblical interpretation. The school's name changed to Shaw Collegiate Institute in 1870 and five years later it adopted its present name, Shaw University. The college offered its first post-secondary instruction in 1874, and the first baccalaureate degree was awarded in 1878.

Shaw has been the site of many notable achievements in African American history.  It is credited as having the first four-year medical school for African Americans in the nation, Leonard Medical School, which operated from 1882 to 1914, as well as the first university to build a female dormitory on a coeducational campus, built in 1873. In addition, the Student Nonviolent Coordinating Committee (SNCC) was established after a conference which was held on Shaw's campus in 1960.
Shaw University has produced outstanding professionals who have contributed to the advancement of society. Shaw graduates include several college presidents, a number of academic vice presidents, judges, lawyers, recording artists, school principals, pastors, teachers of the year, a president of the United Nations General Assembly, and other notable persons, such as:
Ella Baker (1927), civil rights activist & co-founder of the Student Nonviolent Coordinating Committee (SNCC)
Dr. C.T. Vivian (1972), became the director of Seminary Without Walls at Shaw University Divinity School in Raleigh, North Carolina, Dean of Divinity at Shaw University Seminary, and recipient of the Presidential Medal of Freedom Award
Willie E. Gary (1971), multi-millionaire attorney, motivational speaker, businessman
James "Bonecrusher" Smith (1975), 1st heavyweight boxing champion to earn a college degree
Shirley Caesar (1984), Grammy Award-Winning Gospel singer
Shawn "CoCo" McMillan (1995), 2010 Stellar Award Winner
Gladys Knight (1966), Singer, Gladys Knight & the Pips, member of the Rock and Roll Hall of Fame, received Honorary Doctorate
Van Green (1973), NFL Player
Lee Johnson (1975), President & CEO of Mechanics & Farmers Bank
Ronald "Flip" Murray (2002), Professional basketball player
Ida Van Smith (1939), One of the first African American female pilots and flight instructors in the United States 
Angie Brooks (1950), The only African female President of the United Nations General Assembly. She was also the second woman from any nation to head the United Nations
Adam Clayton Powell, Jr., D.D. (1934), Congressman from New York, 1945–71
James E. Cheek (1955), Former President of Shaw University, President Emeritus of Howard University, 1983 recipient of the Presidential Medal of Freedom
Luther Jordan (1997), Former member of the North Carolina Senate from 1993 to 2002
Sheila P Moses (1983), Best selling author, nominated for the National Book Award & NAACP Image Award 
William L Pollard (1967), President of the Medgar Evers College (2009–2013)
James E. Shepard (1894), Founder and President of North Carolina Central University
Edawn Coughman (2010), Offensive Lineman and OT for the Buffalo Bills
Shaw boasts many "firsts": the first college in the nation to offer a four-year medical program, the first historically Black college in the nation to open its doors to women, and the first historically Black college in North Carolina to be granted an "A" rating by the State Department of Public Instruction. Dr. Paulette R. Dillard, Ph.D., currently serves as the University's President. Click to view more information about Dr. Dillard.

Shaw continues to produce outstanding professionals who contribute to the advancement of American society.  In addition, the founder of North Carolina Central University and the first presidents of Elizabeth City State and North Carolina A&T Universities were all Shaw graduates. The third president of Fayetteville State University was also a Shaw graduate.
SHAW RISING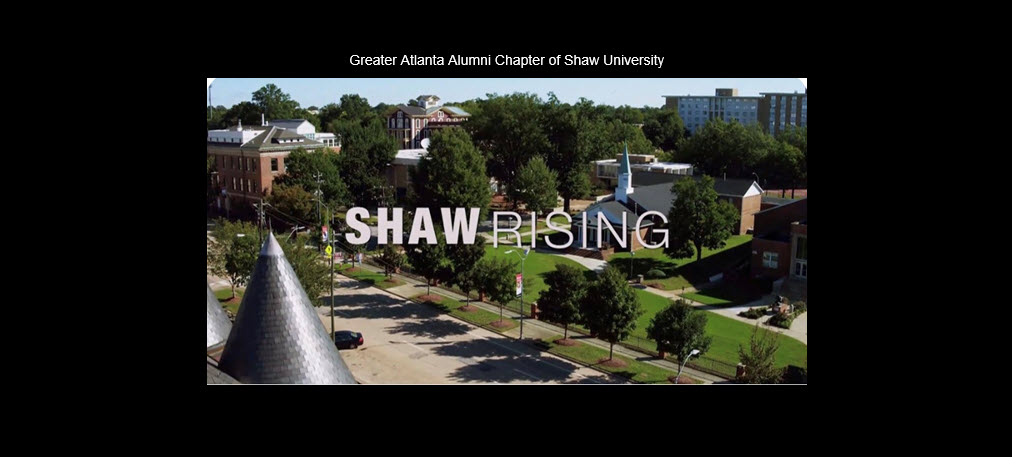 Shaw University started in December 1865 with a bible class for newly freed slaves in Raleigh, NC. Fighting vicious prejudice in the aftermath of the Civil War & the Jim Crow south, Shaw rose to become a co-educational college, a medical school, law school & divinity school.
THE MISSION OF SHAW UNIVERSITY - Atlanta Chapter
The Mission of the Greater Alumni Atlanta Chapter is to promote fellowship among local alumni, fundraise and assist in recruitment and retention of students for the advancement of Shaw University.  Shaw University currently enrolls more than 1,800 students and offers more than 30-degree programs, including accredited programs in athletic training, kinesiotherapy, social work, divinity, religious education, and teacher education. Our mission is:
to unite and promote fellowship among Shaw University alumni and friends; 
to encourage individual financial support of Shaw University through annual giving; 
to stimulate interest among potential students to attend Shaw University;
to honor alumni who have given outstanding service; 
to improve communications between chapters and individuals where no chapter exists;
to promote continuous growth and development of Alumni and to sustain interest in the welfare of Shaw University.
THE PURPOSE OF SHAW UNIVERSITY - Atlanta Chapter
The purpose of the chapter is to: 
Develop and maintain mutually beneficial relationship between Shaw University and the local alumni community.
Maintain and encourage alumni, friends and/or corporate financial support of Shaw University through various fundraising initiatives.
Develop and maintain an open, transparent communication process with the National Alumni Association (NAA), University's officials, and the active alumni base.
Work closely with alumni members to ensure information is properly disseminated. This includes but not limited to current developments within the organization, NAA, and the university.
Assist in recruitment and retention of students.
THE VISION and GOALS of the ATLANTA CHAPTER
Vision
100% active membership
Develop and implement low cost fundraising strategy(ies) to consistently donate $5000 annually to scholars
Establish and/or partner with an organization to participate in a Back to School Drive
Foster a relation with community leaders to obtain corporate sponsorships to asist with scholarships
Implement technology to go paperless, increase information sharing and create chapter transparency
Establish effective, efficient committees to meet monthly and provide reports. If no report, report as such
Establish effective communication from top down in the chapter
Establish easily, understandable financial reporting
Goals
Increase current active membership by 100%
Increase current scholarship funds by 100%
Increase current operating funds by 100%
Establish an annual service project
Volunteer for two community services
Attend at least four HBCU College Fairs
Establish a strong presence in Greater Atlanta through networking, branding, and community relationships
Become the 31st HBCU that make up Atlanta HBCU Alumni Alliance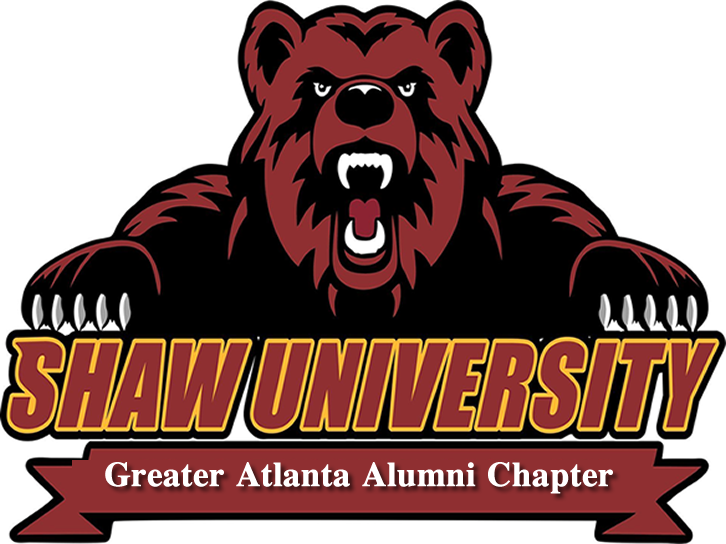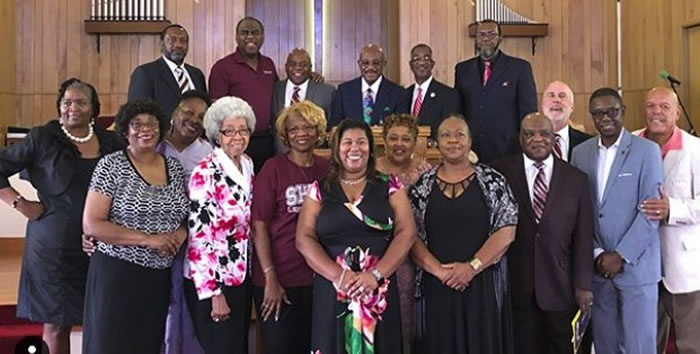 TIME LINE
Here is a time line of key events in Shaw University's history

2000-2015
2006
The University and City of Raleigh join to create a Citizens' Participation and Leadership Institute.
2007
Dual degree programs in engineering, pharmacology and dentistry are established with N.C. State University and N.C. A&T University.
May 13, 2009
President Clarence Newsome steps down, leaving the university with $20 million in debt.
June 2009
Dorothy Cowser Yancy is named interim president, becoming the university's first female president.
Sept 9, 2010
Irma McClaurin is named Shaw's 15th president.
April 16, 2011
A tornado hits the campus, causing severe damage to the university's student center and residence halls.
Aug 6, 2011
The university reopens after the tornado.
August 15, 2011
Dorothy C. Yancy returns as president.
March 24, 2012
The Lady Bears basketball team wins its first NCAA Division II title.
Jan. 1, 2014
Gaddis Faulcon becomes acting president following Yancy's retirement.
June 1, 2015
Dr. Tashni Dubroy is introduced as the 17th president of Shaw University on June 1, 2015.
April 2019
Paulette R. Dillard, Ph.D., the 18th President of Shaw University, is a scientist, educator and astute business woman. Prior to her appointment as president, Dr. Dillard served as Vice President for Academic Affairs, and Dean of the College of Arts and Sciences.

1900-1999
1902
A central hot-water heating plant given by J.D Rockefeller furnishes heat to all the buildings expect Tupper Hall.
1909
The Teacher Education Department is formed.
1914
The law school closes.
1918
The pharmacy school closes.
1923
Becomes the first black college in the state to receive an A rating by the North Carolina Board of Education.
1924
The alumni athletic field is dedicated. Shaw Journal, the student newspaper, begins publication.
1927
Greek fraternity chapter of Omega Psi Phi is established.
1931
The university elects its first black president, Dr. William Stuart Nelson.
1933
The theological department becomes a theological seminary.
1934
Y.W.C.A sponsors the first "Miss Shaw" contest.
1936
Greek sorority Zeta Phi Beta and fraternity Alpha Phi Alpha are established.
1936
Shaw is admitted to an approved list of schools under the Board of Education of Northern Baptist Convention.
1948
University chapel is built.
1949
West Campus (the old Rex Hospital building) is purchased.
1960
A conference led by Ella Baker results in the formation of the Student Nonviolent Coordinating Committee (SNCC).
February 1960
SNCC organizes a "sit-in" protest at Raleigh's F.W. Woolworth. Students from Shaw University and St. Augustine's College are later arrested on trespassing charges at Cameron Village in Raleigh, after refusing a request to leave by an official with the shopping center.
1963
James E. Cheek is appointed president of Shaw. He is the first alumnus to head the school.
1968
The university's 40-acre farm on Rock Quarry Road in Raleigh is purchased.
1975
James "Bonecrusher" Smith (1975), 1st heavyweight boxing champion to earn a college degree was a notable alumni.
1976
The seminary becomes an independent entity.
1984
Shirley Caesar (1984), Grammy Award-Winning Gospel singer was a notable alumni.
1987
Talbert O. Shaw is named the university's 12th president at a time when a lack of money threatens to close the school's doors. At Shaw's retirement in 2003, the school has an endowment of more than $15 million and several new and renovated buildings throughout its campus.
1995
The university reports to the U.S. Dept. of Defense the results of an investigation into why no black World War II veterans had been awarded the Medal of Honor. As a result, President Bill Clinton awards medals to seven of 10 recommended soldiers in 1997.

Also, Shawn "CoCo" McMillan (1995), 2010 Stellar Award Winner was a notable alumni.
1996
The largest single building project in the school's history is christened the Talbert O. Shaw Living Learning Center.
1865-1899
Dec. 1, 1865
Shaw University is founded by Dr. Henry Martin Tupper. A two-story structure at Blount and Cabarrus streets is called the Raleigh Institute.
March 1, 1866
The first class of women is enrolled.
1870
The American Baptist Home Mission Society and the Freedman's Bureau began to provide support, and the Barringer property on South Street is purchased.
1873
Estey Hall, a female residence hall, is constructed.
1875
The school, which has been renamed Shaw Collegiate Institute in honor of Elijah Shaw, is chartered and incorporated under the name Shaw University.
1878
The first college class graduates.
1885
Leonard Medical Hospital is built.
1886
The first class of medical doctors graduates.
1888
The law school is founded – the first in the South for black students.
1890
The first law degree is awarded.
1893
The first pharmacy degree is awarded.
1895
The first Missionary training class graduates.